Powered by advanced algorithm, AllGoVision is capable of superior object occlusion handling and false alarm minimization. AllGoVision also supports logical operation of alarm so that multiple rule violations can be combined to receive alarms for detection of more authentic intrusion threats. The solution works with thermal cameras as well.
Camera Setup & Range
For perimeter protection, angular cameras are to be installed along the boundary wall at approx. height of 15 ft. The distance between the adjacent cameras should be equal to the effective length (e) = camera range (c) - blind spot distance (b). The camera range at which human object (min. 100 pixels) is detected for intrusion, is again dependent on VA resolution and the horizontal field of view i.e. camera angle. Click to download VA Range Calculator.
Example: For VA resolution = 1080p, camera angle = 75 degrees, the camera range for intrusion detection = 127m. Assuming, height of camera installation = 15 ft, tilt angle = 5 degrees, the blind spot distance would be 27m. Hence, effective range (distance between adjacent cameras) =127- 27= 100m.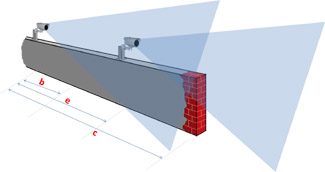 Object Classification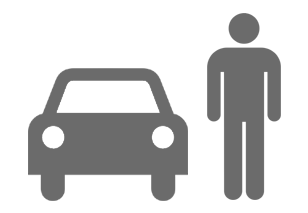 AllGoVision's object classification option consists of 3D calibration to bring distance metric into consideration for scenes with varying depths. This enables it to achieve better results and the level of accuracy can be as high as 90-99% depending on proper calibration.