AllGoVision Open Protocol Interface based SDK
AllGoVision SDK is based on open protocol and can be integrated easily with other VMS.
Applications:
AllGoVision analytics provides stand alone analytics. The Stand Alone Analytics works independently by directly getting the video stream from camera. It process the video and store the Alert videos and images for further investigation. It generates reports for counting applications.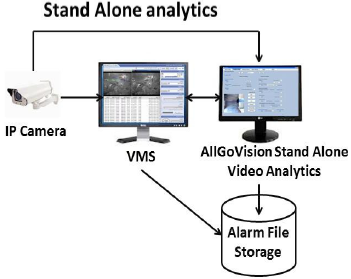 Integrate with any VMS
The stand alone Analytics supports open standard protocol
It can be integrated with other VMS
It can get video stream from VMS
Cameras can be added and alarms can be sent back to VMS using open standard protocol interface
Direct Connection to Camera
Analytics Software directly take the camera feed through RTSP stream
Operator can watch the real time video in Analytic software itself and set the rules
Alert images and videos can be stored as evidence in separate file for further investigation
Alarm Files Storage
The software facilitates in saving alert images and videos in separate file for further investigation.
Open Protocol Interface
Based on Open Standards the SDK can be integrated with other VMS.