AllGoVision Video Analytics
AllGoVision is a renowned Video Analytics Solution. With successful installation in more than 30 countries with the help of 100+ Channel Partners, AllGoVision has become a reputed name worldwide. Headquartered in Bangalore, the Silicon City of India, AllGoVision also has presence in UK, USA, UAE and Korea. AllGoVision is well-equipped with 50 plus Basic and Advanced Features of Video Analytics which find varied applications in Traffic Surveillance, Building Surveillance, City Surveillance, Business Intelligence across different Sectors. AllGoVision has dedicated itself to in-depth research and product innovation and with the right mix of in-house Image Processing Expertise and skilful engineers, AllGoVision has been successfully integrated with 10+ major VMS like Milestone, Genetec, Honeywell EBI, HUS, DVM, Wavestore, etc. AllGoVision puts strong emphasis on Robust Performance, Ease of Use, Customisability, and Cost Efficiency. It has very effective solutions for Next Gen Video Analytics, like Intelligent Traffic Surveillance, Crowd Management, Perimeter Protection, Suspicious Incidences Detection, Retail Intelligence, Facial Recognition and Multi Camera Tracking. AllGoVision's primary focus is to provide solutions with high reliability and accuracy.
AllGoVision is integrated with open platform VMS, like Milestone, Genetec, Indigovision, etc. VMS and the combined solution is set to offer a significant advantage for automated surveillance. It works well with the existing security systems. It is a cost effective solution with robust performance.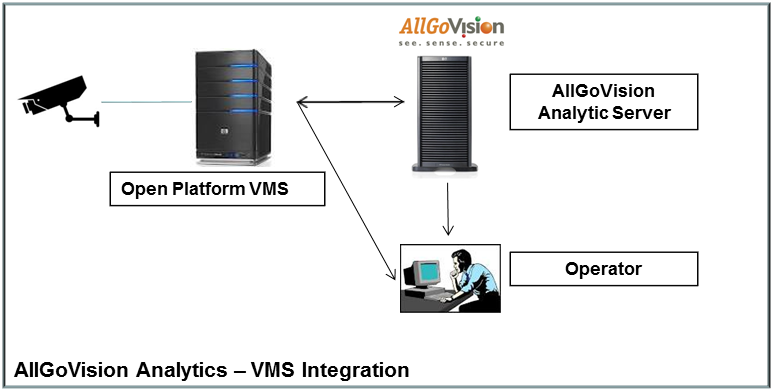 Integrated with open platform VMS like Milestone, Genetec, Indigovision and many more
Can be installed with VMS on same machine or separately
Send alarms to VMS Viewer Application
Supports direct Camera feed
Simple and Intuitive GUI for user input
Compliant with any standard IP cameras supported by VMS
Storage of alarm files for export
Failover server support
Runs as Windows Service
Hardware Support
x64 platform
Library portable on embedded platforms for embedded applications
Feature Rich
Basic and Advanced features like :
Differentiators
Features like Multi Camera Tracking, Crowd Management, Traffic Management, City and Building Surveillance provide integrators and users with greater cost saving, utility and high ROI than with other systems
Multi region analytics with Multiple alerts for different rules in a single scene
Performance
Robust performance
Competitive multi channel analytics on single server
User Friendly and Efficient Alerting and Alarming for easy analysis in Surveillance
Integration & Support
Easy installation
Trial version available
Installation and fine tuning support to customers
Support for Enhancements, Revisions and New Features
Applicable Business Sectors
Critical Infrastructure
Banking
Industries
Retail
Enterprise
Government
Smart Cities
Power
Education
Oil & Gas
Hospitality
Transportation