Oil and Gas Industry
Learn how Oil and Gas Industry is using AllGoVision' Video Analytics for their security needs.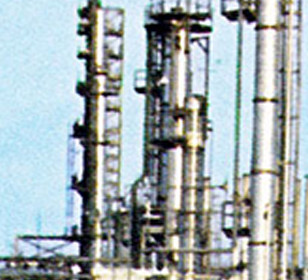 End User : Bina, Madhya Pradesh in India
Application : Security and Suspicious Incidence
Service Integrator : Neural Integrated Systems Pvt. Ltd.
Location : Bina, Madhya Pradesh in India
AllGoVision Partners :
System Integrators : Neural Integrated
Camera and NVR: Indigovision
Challenges:
Safe and reliable energy is a vital link in the nation's critical infrastructure. Oil and gas products play an important role in national economy, national security and are integral to the way of life. As such, security has always been and continues to be a priority across the oil and gas industry. The potential threats are directed against the whole oil and gas infrastructures but could target their critical and strategic assets such as reservoirs, wells, pipeline systems, mass storage facilities, oil refineries, product loading racks and vehicles, pipelines entering and leaving facility, buildings, equipment and support systems, etc,.

Nowadays, with the emergence of new kind of conflicts, asymmetric threats using unconventional warfare tactics are the primary threats to critical infrastructures. This is especially true for oil and gas industry now involved in asymmetric conflicts. Therefore, to protect those assets, personnel and high-level decision-makers etc,. The security measures should be in line with the threat level and adapted to the security risk level.
AllGoVision Solution:
AllGoVision has developed a host of unique and cost effective video Analytics applications that address the specific needs of Oil & Gas and Power industry. The objective is to define a security program based on a collective effort that seeks to reduce the likelihood that industry personnel, their families, facilities and materials shall be subject to any kind of attack, and to prepare to respond to the consequences of such attacks should they occur using real time alarms.
Solutions Offered by AllGoVision:
Tripwire/Trespass
Video Fire & Smoke detection
Security and Suspicious Incidence
Loitering
Missing object Detection / Left Object detection
Parking / Traffic management
Video stitching
Face recognition
Results:
By implementing a holistic security risk management methodology, security solutions can be adapted to the changes in threats and security risks, and the levels of investment can be adjusted in accordance to the protection required.
Benefits of the Application:
Apart from airports, other crowded places with security threat can be monitored with AllGoVision. Features such as left object detection for bomb threat, crowding alerts are in action. Tripwire feature is useful for detecting line crossing which causes serious safety threats such as crossing of railway tracks at station areas / unmanned level crossings.
Tripwire: Enables intrusion detection on boundaries. Any real time intrusion is alarmed without people intervention.
Trespass: The application generates alarms if objects move in/ out of the virtual area through virtual fencing of restricted areas. This can be used for perimeter protection and sterile zone trespassing
Fire & Smoke Detection: Detects Fire & Smoke using CCTV cameras, provides early warning and thereby prevents considerable damage inside and around the premises due to fire
Missing object Detection / Left Object detection: Left object detection ensures security that no unidentified items are left in an open area and acts as a virtual guard for the valuable objects
Loitering: This feature can be used to define areas where loitering represents a risk and unidentified people are present beyond a specified time.
Face capture: Detects face in the camera FOV, captures it and stores it
Face tracking: Tracks the face in camera FOV
Face Recognition: Matches the Face to that in the database and sends real time alarms whether face matches or non-matches
Vehicle counting/Parking management: The application counts the vehicles coming IN and going OUT in parking zone to track suspicious events.
Illegal Parking: Detects and raises alarms when a vehicle is parked in no parking zone
Speeding Detection: Identifies vehicle exceeding the predefined speed limits
Wrong way detection: Detects vehicle moving in opposite direction For e.g.: Vehicles entering through exit gate and vice versa
Video Stitching: Disparate video feeds are stitched together to make one seamless video in real time. Can also be used for Object tracking
Customer:
AllGoVision has helped one of the largest oil refineries in India i.e. Bharat Oman Refineries Limited (BORL) meet their challenging security requirements. Neural Integrated deployed Allgovision's Security and Suspicious Incidence, integrated with Indigovision control center and Indigovision IP camera were deployed to meet BORL's need.

AllGoVision's Security and Suspicious Incidence allows BORL's authorities to identify and restrict access to sensitive areas via video analytics, track suspicious people and vehicles. Furthermore, the perimeter is also protected by AllGoVision' features like Tripwire and Trespass.
Testimonial:
"We have deployed AllGoVision's Video Analytic solution at BORL to address various security threats. The installation was easy and AllGoVision team provided good remote support. We are very satisfied with the accuracy rate and the overall performance of the AllGoVision System"
Vyankatesh Adarkar, Head – Sales, Industrial , Neural Integrated Systems Pvt. Ltd.